Logolenses launches an 80's throwback design with their new funky Pixel frames.
Clearwater, FL (PRWEB) January 20, 2014
It's Back to the Future as Logolenses launches an 80's throwback design with their new funky Pixel frames. These new retro Logolenses frames are sure to remind you of old school computerized graphics and 8 bit video games.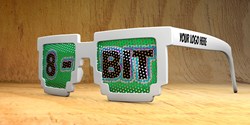 Since the days of Space Invaders and Super Mario Brothers, pixel art is considered one of the greatest technological inventions to dominate the digital world, and now that artistic movement can be celebrated with a pair of customized Logolenses. Although computer images and graphics have been revolutionized over the past 30 years, these glasses harken back to society's digital roots and the technology that has inspired almost everything in use today.
A pixel is the smallest building block of a screen image. Pixel art is the arrangement of these blocks on a pixel-by-pixel basis to make images and animations intended for screen display, just like in the video games of the 80s. The birth of pixel art goes back to the early 1970s, but didn't register on pop culture radar until Atari's Pong carved a market for home video arcades systems.
Logolenses throwback Pixel frames come in 11 vivid colors: black, white, neon-blue, neon-green, neon-yellow, neon-orange, neon-purple, purple, neon- pink, red and royal blue. The lenses of these crazy frames can be customized with a company logo or eye-catching design that will certainly get noticed.
The unique lenses have pinholes, allowing for increased visibility for the wearer, but they also amplify that video game pixelated look. Pay homage to favorite video game characters or comic book superheroes with customized picture lenses. They will let you show off your inner video gaming nerd, while also making an artistic statement.