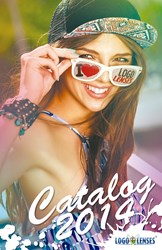 Clearwater, FL (PRWEB) February 09, 2014
LogoLenses, Inc. is pleased to announce the release of their 2014 Catalog athttp://www.logolenses.com/download/logolenses-catalog-2014.pdf. The new catalog features all of the frames offered as well as colors and prices for customizing sunglasses lenses or arm imprinting.
LogoLenses' most popular customizable glasses are the Retro style frames. There are solid colored frames as well as the Retro two-toned style frames. The Retro style frame has been called the best-selling design in sunglass history and was named one of the most enduring fashion icons of the 20Th Century. The frames come in a variety of colors including black, white, neon blue, neon green, neon yellow, neon orange, neon purple, neon pink, coral, purple, red, pink, clear, royal blue, teal, gold, silver and tiger printed. This style of frame comes in children's sizes, too.
The Retro style glasses are our most popular for imprinting on the side arms. Because they are sunglasses, a lot of businesses use these as promotional products. Imprinting on the side arms is available in black and white ink to customize the frames with a business name or logo. The Retro sunglasses are durable and come in a wide assortment of colors including black, white, neon blue, neon green, neon orange, neon pink, red, purple, neon yellow, neon purple, and royal blue. They also come with gold mirror lenses in white, black or metallic blue frames.
The Retro two-toned style sunglasses are LogoLenses most economical frames. They feature a black plastic front and colored side arms in black, white, neon blue, neon green, neon yellow, neon pink, and coral. Additionally we have frames that are all white. Imprinting on these glasses really makes the messages pop thanks to the bright colored side arms.
Aviator style frames were added to the LogoLenses collection last fall. The lenses of the aviator frames are completely customizable with an image, text or logo. The frames come in black, white, neon blue, neon green, neon yellow, neon orange, neon pink, red, gold and silver. We also offer our Aviator frames with clear lenses. Despite the fact that the lenses aren't tinted, these glasses still offer 400 UV protection. Originally these frames were intended for pilots and military men but by the 1970s, these frames had bloomed with color and a "ladies" version came into popularity, many featuring a vast array of colors, rhinestones or designs.
Our newest LogoLenses style of frame is our 80's throwback designed Pixel frames. They come in 11 vivid colors: black, white, neon-blue, neon-green, neon-yellow, neon-orange, neon-purple, purple, neon- pink, red and royal blue. The lenses of these crazy frames can be customized with a company logo or eye-catching design. These frames also come with clear lenses and side arm imprinting is available.
To express the "party animal" side of a personality, LogoLenses has the LED Glow Sunglasses. They feature light technology which gives them a bright, even glow effect that looks great in pictures and on the nightclub dance floor. The LED sunglasses are powered by a small power pack that can be conveniently clipped to clothing, so it's completely out of the way. The glasses have different modes including extended and pulsing illumination and the batteries are included. The side arms of these wacky shades can also be imprinted with a logo or text. These frames are perfect for a bachelor, bachelorette or nightclub promotion party. We offer them in three colors, neon blue, neon green and neon pink.
LogoLenses is the #1 manufacturer and distributor of custom logo sunglasses in the United States. They carry customized sunglasses for any type of event at very reasonable prices. Their glasses are a fun way to create business awareness or make a statement at any event like weddings, birthdays, graduations, etc.