Some days my job is one of the most fulfilling and rewarding things I do.  Special days when Logolenses shows growth and progress through excellent customer service always make me the happiest.
About a week ago, it was late afternoon when the woman called and asked me a bit desperately if we could complete an order for 10  custom sunglasses featuring her cheerleading team. The team was going to a competition in Daytona on Wednesday.
I spoke to our production manager who assured me we would do whatever we needed to do to get those glasses to her in time for the competition. The order was placed around 4pm on a Monday afternoon and we completed production and shipped the glasses by 9am the next day.
She was thrilled with her order and sent our team this in an email:
"I just want to say a huge THANK YOU! to Jennifer and LogoLenses for shipping a last-minute order so incredibly fast to our dance team performing in Daytona! You even beat the due date promised! The girls loved them and I will definitely recommend LogoLenses to everyone"!
Regards,
Laura Zagorski
She made my day when she sent us a picture of all her girls wearing their glasses.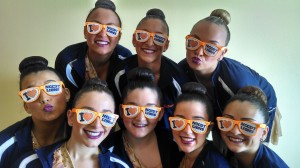 Earlier this week we also got an email from another pleased customer
"I recently ordered some custom sunglasses from y'all and I just wanted to reach out and say that the staff at Logolenses was extremely helpful and responsive. I worked with some other companies/sites and didn't have near the quick response, customization, and ease of your staff. Just wanted to make sure that it didn't go unnoticed. Maybe y'all should open up a place where feedback can be left for other customers to see. I will definitely be recommending y'all to anyone that I know of that is doing promotional stuff or whatever".
Thanks!   James Farmer
There really is nothing like opening up my email and getting feedback from happy customers. All of us here want our customers to love their customized sunglasses. We want to help make a birthday, bachelor party or wedding day special for each of them. We work closely with our customers and our designers to ensure each pair is perfect.
Logolenses is located in Clearwater, Florida. We take great pride in the fact that most of our customer's orders leave our warehouse within 48 hours. We have a team of designers on hand to help with designs and ideas on all customized sunglasses. We are the top manufacturer and distributor of customized sunglasses in the United States. We strive to provide top quality sunglasses and exceptional customer service.