About a week ago, the newest addition to the LogoLenses team, Riley Walsky decided to order up some customized sunglasses for her daughter's soccer team, the Lightning. As many of our customers do, Riley consulted with our design team first, brainstorming ideas and making suggestions on colors and graphics.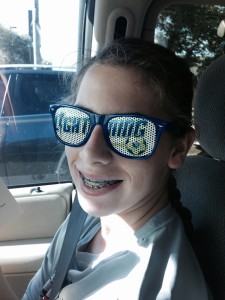 "My daughter's team colors is royal blue and safety green," she said. "I wanted something that obviously focused on soccer but also something that the girls would really love to wear. I wanted to make sure the colors and team logo matched. Our designers created a fabulous design that I knew these girls would flip for!"
Additionally, Riley decided to make some glasses for the other parents who show up every week to support their kid's team.
"There is this one soccer dad that absolutely loves the coach of the team, Coach Brad," Riley said. "Which is why I had a special pair of glasses made specifically for him that says "I heart Coach Brad" with a picture of the coach on the lens."

The glasses for both the team and the parents were a huge success and the team was excited that their glasses matched their uniforms. Riley even ordered some glasses for her fellow soccer moms to wear in the stands. "We got compliments on the glasses throughout the entire tournament weekend. We were the stylish soccer moms!" she said with a laugh.
"The girls were all talking about where they wanted to wear the glasses. They can't wait to show them off to other teams" Riley said smiling. "They were super excited about them and it was great to be able to do something special for the team."

LogoLenses offers completely customizable sunglasses with team decals on the lenses, mottos or personalization. They also have side arm imprinted glasses that can feature team names, website information or any customization desired.