Sisters Mary Kay Oney-Hatt and Kathy Burke, had a dream…literally.
In early 2008, Kathy was living in Ohio working at a factory. She had a dream one night that she was working in Florida and was running a bakery.
"I was always the "Cookie Aunt" for years, she said. "My nieces and nephews loved my cookies and I'd always enjoyed baking." After her dream, Kathy called her sister Mary Kay, who lived in Florida.
During that phone call they realized they'd had the same dream, only in Mary Kay's dream, she'd gone to culinary school.
"We were also both reading the same motivational book that encourages people to follow their passions in life" she said. "I never thought I'd quit the factory, but after the dream and the book, I thought 'Gosh, I think this is what I'm supposed to be doing with my life'."
Mary Kay was laid off shortly thereafter due to budget cuts and she came to the same conclusion. "I'm going to do what I always wanted to do." she said, and started planning.
"I graduated from The Art Institute of Tampa at the end of 2008 and we started planning our business then," Mary Kay said. "We planned for about a year and one day, an opportunity just fell in our laps."
Kathy had seen a bomb squad truck that was for sale in Ohio. The ladies told the seller they were interested and, two weeks later, Mary Kay flew to the Midwest to get things taken care of for Kathy's move south.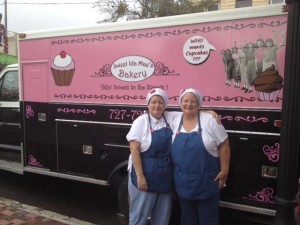 The ladies packed up the truck with Kathy's possessions and drove south. "It took us some time to get the truck gutted and fixed up inside" Mary Kay explained. "We decorated it and put in carpet and we started baking."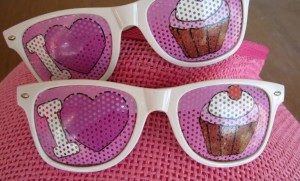 The sisters craft their baked goods at home and also use a friend's bread bakery and then load the truck. Their business, Sweet Ida Mae's Bakery Food Truck can be found at farmer's markets, food truck rallies and other special events. "That's when we found Logolenses and ordered some customized glasses to wear," Mary Kay said. "The reception of the glasses was amazing. They were a real complement to our business and we had several people asking us where we'd gotten them."

"Then we started to get questions about if people could order them from us" Kathy said. "So we became resellers with Logolenses." The ladies designed glasses for weddings, bridal shows, and even designed some for the City of Dunedin for their Halloween event.  "We've sold them at music festivals, art festivals, pretty much anywhere there are groups of people and everyone just loved them. It's a truly different way to advertise our company" she said.
"We've had people approach our bakery truck and say 'But, I don't eat sweets' and now that we have the "I ♥ Wine" and "Let's Party" glasses, we have an alternative item to offer them" Mary Kay explained. "Plus, you can create anything you want. Logolenses has a team of designers that have worked with us several times to make sure we love the glasses. You can choose from several different frame colors, fonts styles, even background artwork."
Kathy designed some glasses with her mother's picture on them for an upcoming family reunion. She also made some for the rest of her family members.

"Their customer service department guided me every step of the way, from design to production completion. Logolenses is great and we plan to use them a lot more for some of our upcoming events" she said.
Logolenses is one of the top custom sunglasses manufacturer in the United States. They offer quantity discount pricing and low price guarantee. Most orders leave their warehouse within 2 days and they offer free UPS Ground Shipping in the U.S. on all orders over $100.