Ever since I was a very little girl, I loved to match my outfits with my jewelry and shoes. Once I began wearing makeup, I would make sure my eye shadow matched my blouse. I refused to wear brown shoes with an outfit that I'd accessorized in black. I would choose to wear my hair in styles that complimented what I wore, something I still do today.
So, after joining the Logolenses team, I saw all of the different colors and styles of frames we offered…I knew my dream of having a pair of sunglasses to match every outfit I owned could become a reality. I took a close look at the glasses and saw that while affordable, they are sturdy shades that meet all of the federal UV protection requirements.
My heart began to race as it sunk in that I would be able to really express my individuality with my new eye wear. I could mix and match any color frame and any style of lenses I wished. Logolenses, while good quality, are inexpensive enough to buy one for every mood.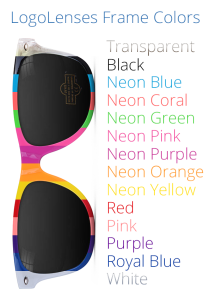 These glasses can either help get noticed, or show your team spirit and enthusiasm. Suddenly I was getting ideas about the annual cancer awareness walk I participate in every year. What a great way to show which team is mine. I thought of Spring Break and being able to have a pair of sunglasses to match each of my three swimsuits. I remembered being in band class in High School and spending over $35 for a personalized sweatshirt that I never wore. If we had ordered personalized sunglasses, I probably would have worn them nearly every day.
The possibilities are endless, from celebrating a memorable event to putting your own personal twist on a favorite outfit, LogoLenses can make you stand out and make any day special.